Pasadena Polycore Shutters For Your Home or Business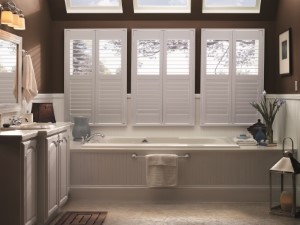 Polycore Shutters offer functionality and instant appeal that works for all types of room setting. They stand out as an attractive feature that enhances both residential and commercial interiors alike. They have the flexibility to work in the bedroom as well as the living room. Contact Pasadena Shades & Shutters for your next shutter installation. We provide quality window coverings from reputable brand name manufacturers. Our seasoned Pasadena shutter company can meet your individual needs with a fast, dependable service that you can afford!
Choose Your Colors
Polycore Shutters afford a broad spectrum of colors and stains to choose from. You can choose colors or stains that reflect the look of real wood. Natural cedar or a light tan finish to your shutters will restore the classic beauty you love about your home. For a modern look, choose bold bright colors that really stick out and give your room that edge you want.
Benefits Of Polycore Shutters
Easy On Your Budge - Polycore is the popular choice for modern window covering. This unique shutter design combines innovative technology and conventional craftsmanship. They contain aluminum reinforced material which make them durable and cost effective.
Low-Maintenance - One of the reasons Polycore shutters are popular is that they are easy to maintain and simple to clean. You will appreciate the ease and efficiency of daily care. You can make of your shutters spot free in no time!
Polycore Shutters vs. Wood Shutters - Unlike wood, Polycore will not split or crack nor discolor. Polycore insulates your home three times faster than traditional wood. It's easier to maintain and will not warp over time due to moisture or sunlight.
One Of A Kind
What makes our shutters so different is the internal, and completely invisible, aluminum cross-sectional box rein-forcing. The aluminum reinforcement delivers distinct advantages over other types of shutters. Ask your Pasadena Shades & Shutters professional for all the benefits of Polycore Shutters.
Enhance & Secure Each Room
If you're into Polycore or just want a simple interior shutter with a more traditional design; you are more likely to feel the instant beauty they provide along with the added security your family deserves. Protecting the home with such beauty can be all yours.
Recent Articles
3 Amazing Benefits Of Faux Wood Blinds


If you are one of the many homeowners out there who are in search of new window blinds for your home, you are likely going to realize just how vast your selection pool is, if you haven't already. For many homeowners, the process of finding the right option for your home can start to feel […]

READ MORE
You'll Love Your Woven Wood Shades for These 3 Reasons


Woven wood shades can provide some great benefits for your Pasadena home or business. To find out what those benefits our, just check out our list of the top three right below. And if this list helps you decide that woven wood blinds are right for you, be sure to have yours supplied by Pasadena […]

READ MORE
If you are looking for affordable polycore shutters in Pasadena, CA then please call 818-618-5288 or complete our online request form.