Stunning Natural Wood Blinds in Pasadena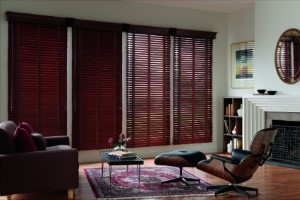 If you're searching for a natural way to beautify your home, then wood blinds are the perfect solution. Pasadena Shades & Shutters offers attractive, eye catching wood blinds that give your home a natural elegance. Wood Blinds have a timeless popular appeal that works in almost any room environment. They come in a variety of colors, styles, and sizes to suit your personal taste. Can't find what you're looking for? Great! We custom design wood blinds just for you. Contact our Pasadena shutter company today!
Choosing the Perfect Wood Blinds
Authentic wood blinds give your home that classic tailored appeal and instantly increase its value. They are versatile and be customized which make them the perfect finishing touch for your room. We can help you determine the size, style, and price range for your budget. Leave the rest to us. We can deliver and install you wood blinds in no time.
Benefits of Natural Wood Blinds
Wood blinds truly distinguish themselves from other types of window treatment in several ways:
Wood Blinds are very versatile and blend into almost any décor.
They can be used as a supplement to drapery and other types of window covering.
Slat size of the blinds can be adjusted to fit any window size.
Although wood blinds require frequent cleaning, they are easy to care for and maintain due to their construction.
Proper cleaning insures proper function and also gives your blinds that resilient shine.
Maintaining your wood blinds is as easy simple as lightly dampening a cloth, closing the blinds, and wiping down small areas at a time.
Great Options For Types of Wood
Wood Blinds can be constructed from a variety of different wood types. Knotted pine is cozy and gives your home the log cabin look. In a formal dining room, a rich cherry blind with a polished finish may be more appropriate. Wood blinds are made from dozens of different wood types depending on whether the homeowner wants visible knots, grains, color variations or a particular hue throughout the home.
Recent Articles
3 Amazing Benefits Of Faux Wood Blinds


If you are one of the many homeowners out there who are in search of new window blinds for your home, you are likely going to realize just how vast your selection pool is, if you haven't already. For many homeowners, the process of finding the right option for your home can start to feel […]

READ MORE
You'll Love Your Woven Wood Shades for These 3 Reasons


Woven wood shades can provide some great benefits for your Pasadena home or business. To find out what those benefits our, just check out our list of the top three right below. And if this list helps you decide that woven wood blinds are right for you, be sure to have yours supplied by Pasadena […]

READ MORE
If you are looking for Wood Blinds in Pasadena, CA then please call 818-618-5288 or complete our online request form.