Great Selection Of Modern Window Treatments in Pasadena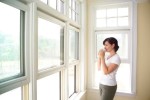 One of the great benefits of partnering with Pasadena Shades & Shutters is that you get a wide array of options available to you. In addition to our great selection of shades, shutters, and blinds, we also carry contemporary and traditional window treatment that provides a creative alternative just for you. Visit our Pasadena shutter company showroom today and we can help you discover cool new products available to you.
Modern Window Film
Do you have a window in your home that gives you a great panoramic view of the landscape outside? Window Film may be a great choice for you. Window film allows you a great view but filters out how much sunlight and heat enter the room. It can also act as a great supplement to your current window covering. Window film comes available in a range of colors and shade and is easy to install or remove. It gives you window area a very clean and contemporary feel.
Luxurious Curtains and Drapes
Nothing beat the timeless classic look of drapes and curtains. You can choose from traditional elegant patterns and designs to more bold modern curtains that make your entire room stand out. Our curtains come in various shapes and sizes from small window curtains to full-length wall curtains that provide excellent coverage top to bottom.
New Window Treatment Features
There are endless features and trends that give your shades, curtains, or shutters that added touch.
Go Organic - Two popular natural materials in window treatment are woven wood and bamboo. Both create an authentic vibe and are also eco-friendly.
Motorized - Tired of pulling those shades and shutters up and down? Let motorized window treatment do the work for you. The greatest benefit of motorized shades and shutters is that they offer even movement so that there is no tugging and dead dropping of the products. This makes them operate smoothly and extends their life.
Remotely Speaking - Modern window treatment can now be operated using wall controls or even remote controls. This gives you complete control at the push of a button.
Your Pasadena Window Professionals
At Pasadena Shades & Shutters we work hard to bring you 100% satisfaction in every aspect of our service. From window treatment products of the highest quality to our friendly, courteous customer service, and knowledge and experience, we are committed to excellence every step of the way. Visit our showroom today and see why we are Pasadena's #1 window treatment provider.
Recent Articles
3 Amazing Benefits Of Faux Wood Blinds


If you are one of the many homeowners out there who are in search of new window blinds for your home, you are likely going to realize just how vast your selection pool is, if you haven't already. For many homeowners, the process of finding the right option for your home can start to feel […]

READ MORE
You'll Love Your Woven Wood Shades for These 3 Reasons


Woven wood shades can provide some great benefits for your Pasadena home or business. To find out what those benefits our, just check out our list of the top three right below. And if this list helps you decide that woven wood blinds are right for you, be sure to have yours supplied by Pasadena […]

READ MORE
If you are looking for Window Treatments in Pasadena, CA then please call 818-618-5288 or complete our online request form.