You'll Love Your Woven Wood Shades for These 3 Reasons
Category: Window Treatments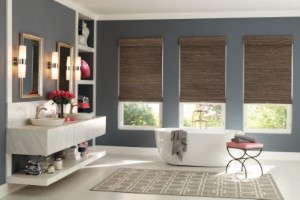 Woven wood shades can provide some great benefits for your Pasadena home or business. To find out what those benefits are, just check out our list of the top three right below. And if this list helps you decide that woven wood blinds are right for you, be sure to have yours supplied by Pasadena Shades & Shutters.
Environmental Benefits
Being made from organic, renewable materials, woven wood shades won't create the same carbon footprint as other window-covering choices that are made from synthetic materials. So, if you're the environmentally conscious sort, you will certainly prefer woven wood shades to other options.
UV Ray Protection
One of the most destructive elements that can affect your home is UV rays. As they come in through your windowpanes, UV rays can cause areas to fade and fabrics to become weak and discolored. Luckily, with woven wood shades, you can avoid much of this damage thanks to their design that can keep up to 100 percent of UV rays out of your home.
Customizability
Of course, not everything you look for in window coverings should be strictly practical. You should also look for a pleasing aesthetic for your home. And with the many shapes, designs, and colors that they come in, woven wood shades will keep your home looking great while also providing the benefits mentioned above.