Blinds, Shutters, Shades: Know The Difference
Category: Window Treatments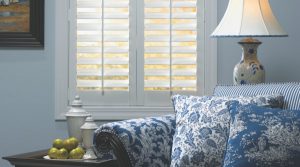 It's not uncommon for our clients to inquire about the distinctive differences in shutters, blinds, and shades. Although they all ultimately serve the same purpose – which is to provide window coverage – they often differ in key areas such as construction, design, color, material and how they are operated. If you are currently in the market to get new window coverings, then knowing the difference can help make an educated choice that is right for your home. Below are 3 general descriptions of each. If you have any further questions then contact a Pasadena Shades & Shutters specialist. We can give you a point-by-point description of all of our products.
Shutters
Shutters are often the most expensive option of the three. Their custom designs which conform to the dimensions of your windows can actually add market value to your home. In addition to their durability and complete coverage, shutters come in an assortment of styles that make them a desirable option regardless if you like classic traditional designs or are going for a more bold modern look. The slats of shutters can also be adjusted to let in a desired among of light or none at all. Indoor shutters are adept at blocking light and providing ultimate privacy as well as timeless style.
Blinds
Blinds are available in a variety of shapes and styles, with horizontal and vertical slats being the unique feature. There are many materials used to craft blinds, which ultimately affects their pricing. Aluminum and vinyl blinds, while highly functional, are also more affordable. Natural wood blinds create a wonderfully authentic look but are also a little more expensive. Blinds have the flexibility of being built with materials such as bamboo, which achieves the look of wood. Faux wood blinds also achieve the natural look as well. Blinds are available in many styles and colors to complement the home's overall décor. Not all blinds provide complete coverage or privacy, so choose wisely.
Shades
Shades are often considered as the most affordable option. They're also highly decorative and easily functional. Designer shades are available in a wide array of fabric types, dimensions, and shapes. Not only can shades add great visual appeal to any room, but they can also be custom-designed with different colors, patterns, and even textures to accent the furniture, walls, and décor of any room. Solar shades are a modern type of shade that repels the sun without entirely blocking the view and even woven shades that allow small amounts of light to come into the room while still providing adequate privacy. Shade designs have come a long way and many consumers opt for shades to suit their personal taste.
The Choice is Yours
Ultimately there is no wrong decision. Shutters, blinds, and shades all have their own unique features that will completely transform how your room looks in various ways. So the real question is what are you looking for and how do you want your window covering to affect your environment. The key is to purchase quality products that make a statement and are durable and long-lasting.
If you are looking for a blinds, shutters, and shades expert in the Pasadena area then please call 818-618-5288 or complete our online request form.