6 Tips to Purchasing Great Shades, Shutters or Blinds
Category: Window Treatments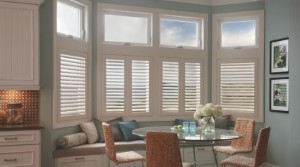 Great Shades and Blinds enhance the design of any room. Whether you prefer a more traditional elegant motif or are going for a bold modern look, shutters, and blinds are the final finish to any room décor. When contacting your local Pasadena Shades & Shutters professional, it's essential to do it right the first time. With that in mind, our Pasadena Shutter Company has assembled some useful tips that will help as consider your next shade, shutter, or blind purchase.
Enhance Your Room Design
You have invested a lot of time to create the perfect design for your home or office. From the décor to the hardwood floors or carpeting, the wall, and everything in between, you've taken great care to make sure your room is exactly the way you envisioned. The right window covering will create the perfect finish. With such a wide variety, you're sure to find the right shutter, shade, or blind for your room.
Color Scheme
Matching is your window covering is more than just color. It's also important to match designs and patterns to give your room a sense of cohesiveness throughout. Pasadena Shades & Shutters offers a vast selection of colors including earth tones and neutral colors that match almost any style. If bold colors are your preference, then make a statement with our rich eye-popping shades. You can also choose from authentic natural wood stains.
Window Frame Dimensions
Before you visit Pasadena Shades & Shutters, take a moment and measure the dimensions of both your window and window frame. This will save you time and help us provide you with greater service. Take measurements of your entire window frame area. This ensures that you get maximum coverage from your shades or blinds. Privacy is a key factor when investing in window treatment, so covering your entire window area is essential.
Blinds, Shades or Shudders?
One of the benefits of window treatment is that there are endless styles and shapes, and tones to choose from. There are both subtle and noticeable differences in the three main types of covering: shades, blinds, shutters. The main three are also broken down into various types such as:
Natural Shutters
Plantation Shutters
Wood Blinds & Faux Wood Blinds
Cellular Blinds
Motorized Blinds
Natural Shades & Woven Wood Shades
Window Film vs. Window Covering
A viable option for window covering and design is window film. It has unique features that aren't found with typical window shading. For instance, it gives you full window protection from UV rays and heat from sunlight while still providing your windows with full transparency. This allows for a full scenic view outside your home. Other notable differences include easy installation and removal, modern style, and custom levels of shading – all great features of window film.
An Affordable Value
Window covering is affordable and instantly creates value to your home. When you decide to replace your old shades or blinds, let us know, and we'll set up an affordable plan for your project. Since window shading comes in a variety of products, we offer shades that are right for your home budget. We provide window covering that is below retail. You'll love the savings!
If you are looking for a blinds, shutters, and shades expert in the Pasadena area then please call 818-618-5288 or complete our online request form.