5 Great Tips for Buying Window Covering
Category: Window Treatments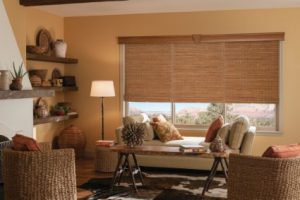 With all the options for window coverings available to you, it can be challenging trying to narrow down the best fit for your room. Although the main purpose of window covering is to provide shade from the sun and privacy from the outside, shades, shutters, and blinds also have a decorative edge that provides the perfect finishing touch for any room. So your window covering should complement and accent your room, not take away from it. Carefully consider your room's current design and style and then pick a window covering that matches.
The Right Color Makes a Statement
Today's window coloring is available in a wide assortment of colors, shades, and tones. For most home and business owners natural tones seem to be the most popular. These can generally be found in woven wood shades, plantation shades, or natural wood blinds. With products such as Polycore shades, however, the options open up to a mixture of bold colors and designs. It all depends on what type of statement you want to make in your room. One thing to consider is how the outside will affect the color of the shade as the sunlight passes through the material. This can look different in reality, then what you had pictured in your mind.
Grab Your Measurements
One of the most overlooked items on your checklist is actually taking measurements of your window frame. This is important to bring with you during your next visit to Pasadena Shades & Shutters as it will save you time and the hassle of guesswork. When you measure the window frame make sure to measure the height, width, and depth. This is especially important if your window covering will be embedded inside the frame. If you have plans for your window covering to overlay across the wall then you need to account for those measurements as well.
Blinds, Shades or Shudders – Know The Difference
One of the questions that we're often asked is the difference between shades, shutters, and blinds. This is a good question. It comes down to a handful of factors. This includes overall design, whether they are horizontal or vertical, operation features, and also what they are made of. Within each category is subcategories that carry various features and operation options. The best way to find out is to contact your Monroe Shutters, Blinds, & More Specialists. They can sit down with you and give you a point-by-point overview of the different types of window covering.
Window Film vs. Window Covering
A viable option for your home or office is window film. The difference between film and traditional window covering is that film is applied directly to the window. There are numerous benefits to window film that include easy application, cleaning, affordability, and a wide selection of styles. Window film generally appeals to people with more modern tastes. The film also gives your window wide open panoramic view without any obstructions. Weigh the pros and cons of window film and then decide if it's for you.
If you are looking for a blinds, shutters, and shades expert in the Pasadena area then please call 818-618-5288 or complete our online request form.