Sun Valley Shutter Company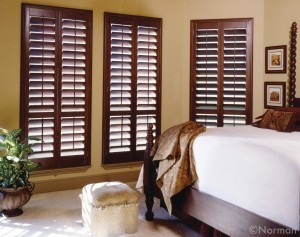 The only goal we have at Pasadena Shades & Shutters is to provide home and business owners in Sun Valley and the surrounding areas with high quality shutters, blinds, and shades that meet or exceed their expectations. We have a very large selection of window treatments available, and we work with our customers to find the perfect new window coverings for their homes or business. We offer free on-site consultations, during which we can help you find the perfect styles, colors, and designs for you.
Different window treatments can help you achieve a variety of different goals, whether aesthetic or functional, and every kind of window treatment has its own particular strengths. We'll help you determine exactly what goals you're trying to achieve, and then we'll find the right window coverings to help achieve them. We'll offer you our professional advice, but we'll always leave all final decisions up to you.
After you've selected your new Sun Valley window treatments, you may also rely on our professionals for measurement and installation services.
Call us today to schedule your consultation, or to ask any questions you have about our services, and we'll be looking forward to assisting you.
Sun Valley Shutters
Shutters can be a fantastic addition to nearly any home or business, no matter what style of interior design they currently have. Shutters work well with both modern and traditional styles of design, and they are extremely versatile. Some of the benefits of shutters include:
They can look great in any room
They control light effectively
They help to insulate your home
They can increase your home's resale value
Our shutters can be made from a wide variety of different materials. Wood shutters are the most classic in appearance, and they can be painted or stained to match your home or business' design. Polycore shutters are extremely durable, but they also still look great. Aluminum shutters are fantastic for exterior and commercial use.
Our professionals can help you choose the shutters that would be best for your Sun Valley home or place of business.
Sun Valley Window Blinds
Window blinds are the most common types of window treatments in the US, and there are a few reasons for that. That's in part because they're so effective at helping with light diffusion, and it's also because of their ability to match any style of design without overpowering it.
Vinyl blinds are excellent for rooms in your Sun Valley home where other materials may be damaged by heat and moisture. We recommend them for bathrooms, kitchens, and garages.
Wood Blinds are some of the most attractive window treatments that we offer, and they pair perfectly with any type of interior design.
Faux wood blinds are every bit as attractive as wood blinds, but they won't require the same amount of care or maintenance. These are recommended for homeowners with children or pets.
Recent Articles
3 Amazing Benefits Of Faux Wood Blinds


If you are one of the many homeowners out there who are in search of new window blinds for your home, you are likely going to realize just how vast your selection pool is, if you haven't already. For many homeowners, the process of finding the right option for your home can start to feel […]

READ MORE
You'll Love Your Woven Wood Shades for These 3 Reasons


Woven wood shades can provide some great benefits for your Pasadena home or business. To find out what those benefits our, just check out our list of the top three right below. And if this list helps you decide that woven wood blinds are right for you, be sure to have yours supplied by Pasadena […]

READ MORE
If you're looking for window treatments in Altadena, call Sun Valley Shades & Shutters at 818-618-5288, or fill out our online request form.